Men's True Navy Sweater 100% Wool - 165,00 €
OUR navy sweater in virgin wool
The "true sailor sweater" for men has made the success of Le Minor hosiery. An emblematic and timeless garment, this model has not changed for nearly 100 years. Made of dark navy blue wool, this navy sweater is an absolute classic in men's wardrobes. The cut is quite narrow and the body quite long because this navy knit was originally designed to be worn close to the body, to warm without hindering the maneuvers on a boat. That's why it is commonly called "sock sweater". There are pieces in a male wardrobe, which are essential. A pair of jeans, a yellow raincoat or a hunting jacket in coated canvas, rain boots, a heavy jersey sailor. The plain navy blue sailor sweater is one of them. Its Breton tradition (although the button placket is an innovation... Scottish) deserves that we call upon the oldest hosiery still in activity in Brittany: the activity of the workshop of hosiery Le Minor goes back to 1922. If you hesitate between two sizes, take the larger one.
Création de notre pull marin en laine vierge
Cet authentique pull marin bleu pour homme est tricoté avec un fil de pure laine, lui même filé en Europe. Le titrage du fil est fin, et la teinture réalisée à la commande pour Le Minor, par le fournisseur historique de la Marine Nationale. Le choix de la matière, puis le tricotage des panneaux de ce pull, dans l'atelier du Morbihan, permet d'obtenir une maille caractéristique, très qualitative. La Main du pull, c'est à dire la qualité qui se dégage au toucher, témoigne immédiatement qu'on est en présence d'un pull marin traditionnel pour homme, toujours fabriqué selon la recette historique. L'adaptation de ce vêtement à toutes les situations n'est plus à prouver. De facture robuste, le pullover de matelot uni marine accompagne les voileux et les aventuriers. Symbole d'élégance à la française, il convient tout aussi bien dans un cocktail ou au bureau. Le pull marin bleu marine est le vêtement pour homme indémodable par excellence.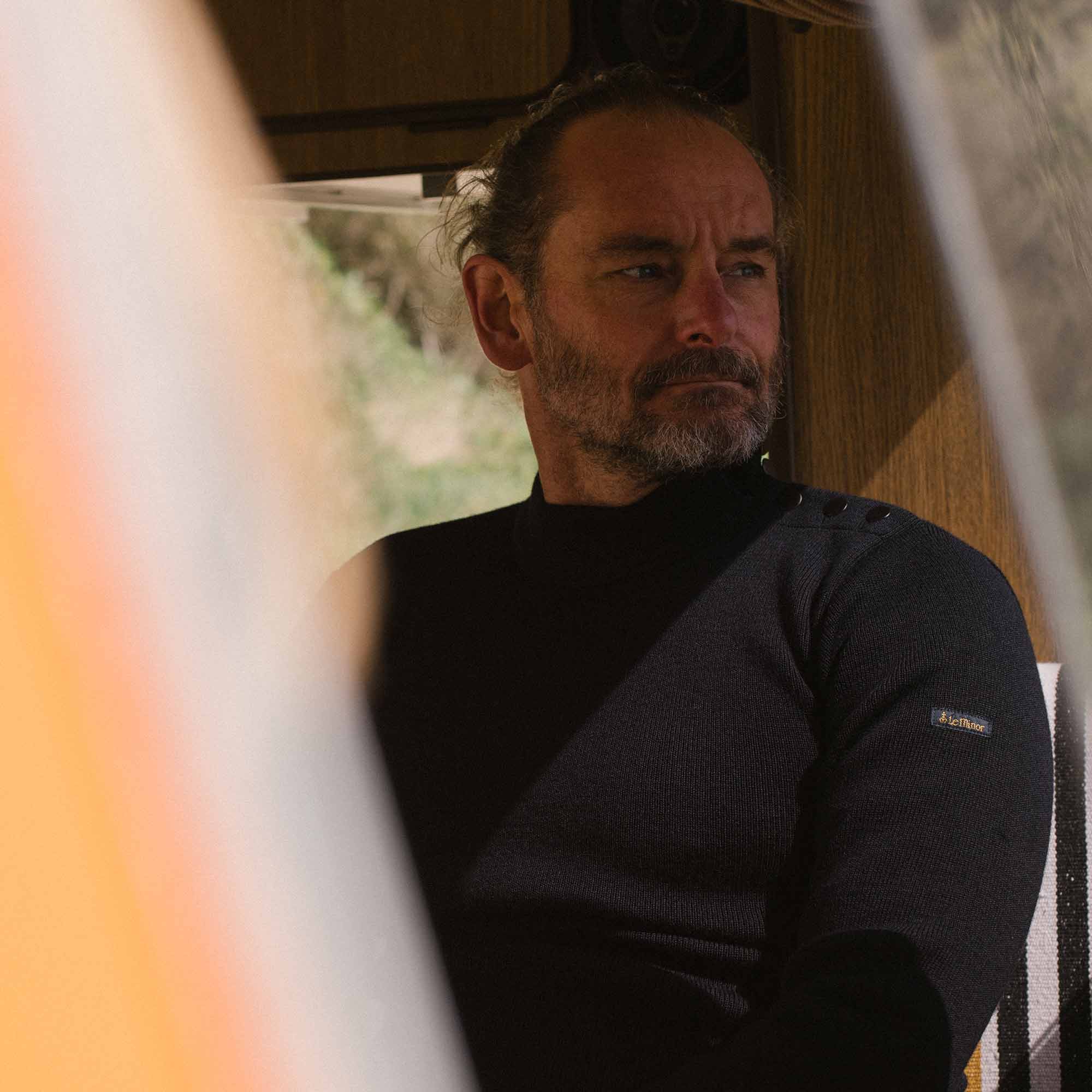 Maison de qualité
Envoi rapide et soigné, pull marin superbe et de très grande qualité : Le Minor et ses équipes honorent le « made in France ».
Un vrai marin ....
Le pull taille super bien (le guide est correct) pour l'instant Nickel ! manque plus que le bateau et l'équipage !!
top
Très beau pull bien chaud et agréable à porter! Je ne regrette pas!
Excellent
Excellent service client !
Rapidité d'envoi , réponses précises et rapides tant par mails qu'au téléphone . Responsable du Service client sympathique ,réactive, efficace , arrangeante . Les Colissimos arrivent en J+2 si commande avant midi . Traitement des retours et remboursements rapides .
Quant é la qualité des produits ; c'est parfait
Superb product. Great quality. Getting lots of compliments from friends, co-workers, and family. Love this so much, I ordered another one in a different color. I ordered from the USA, and it arrived relatively quickly.
As far as sizing, they recommend getting "one or two sizes above your size." I am bout 5'10" (~1.77M). I have one as my true size (M), and one above (L). While both fit very well, the L is slightly more comfortable as a sweater.